At Van Hermert's Dutch Oven Bakery, we have mastered the art of cake making and would love the chance to design a cake for you. Whether you are celebrating a birthday, graduation, wedding, anniversary, retirement, or any number of occasions, we are the perfect choice to help make your dream cake a reality. Choosing Dutch Oven Bakery to make your special occasion even more memorable is a piece of cake! Cakes are a wonderful way to celebrate a special event or person, and are a great way to make an average day extraordinary.
Our prices may vary depending on the decorations you choose. If you're watching costs, consider having a decorated centerpiece cake, with accompanying plain iced sheet cakes to serve from. Your cake will be scored in 2x3 or 2x2 inch pieces with an icing border. If you have questions, feel free to give our sales staff a call or stop in to see our displays! Our cakes are frosted with our own buttercream icing. The following prices may vary depending on the decorations you choose. 
---
Our cakes come in a wide selection of sizes, flavors and fillings. The prices below are our regular sheet cake prices, if you have questions about wedding cake prices please contact Courtney at our Boone bakery.
So that we can obtain all of the information needed for your order, please do not place cake orders through our website or our email address. Orders must be placed over the phone. If you have any questions for us before you place an order feel free to send us an email at dutchovenbakeryiowa@gmail.com or call one of our experienced sales staff.
White
Chocolate
Marble
Red Velvet (with cream cheese frosting)
Champagne
Lemon Chiffon
Raspberry
Strawberry
Mocha
Strawberry Champagne
Raspberry Champagne
---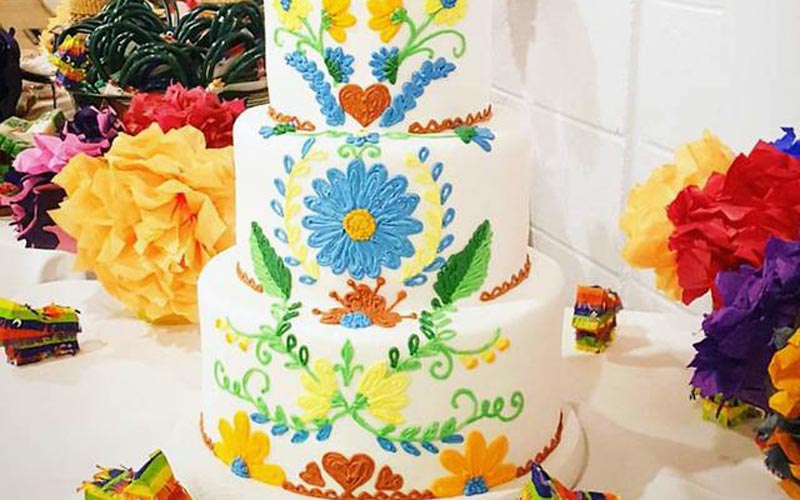 Serves: 7 people
Decorated: $12.00
Plain Iced: $8.00
Add filling: +$5.00
Serves: 15 people
Decorated: $22.00
Plain Iced: $16.00
Add filling: +$8.00
Serves: 16-24 people
Decorated: $22.00
Plain Iced: $16.00
Add filling: +$8.00
Serves: 20-32 people
Decorated: $27.00
Plain Iced: $20.00
Add filling: +$12.00
Serves: 32-48 people
Decorated: $37.00
Plain Iced: $28.00
Add filling: +$15.00
Serves: 40-64 people
Decorated: $50.00
Plain Iced: $40.00
Add filling: +$20.00
Serves: 64-96 people
Decorated: $60.00
Plain Iced: $50.00
Add filling: +$25.00
Cake prices depend on the decorations that you have in mind. For intricate decorations, our cakes may be priced anywhere from $1-$20 extra